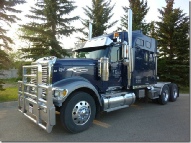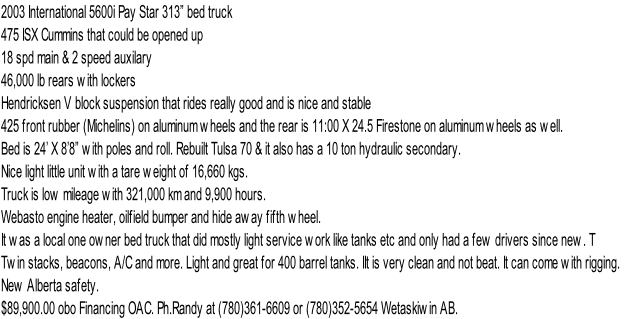 2007 Freightliner Columbia tandem axle winch tractor
Caterpillar C15, eng brake 934,734 kms
Eaton Fuller 18 spd
14,600 lb front axle
46,000 lb rear axle, dbl diff lock
Wide track axles
Airliner A/R susp
4.30 ratio, 244 in. WB
52 in. raised roof integral sleeper with tinted windows
Tulsa Ruffneck 30 ton hyd winch and live roll
Sliding chain hangers, Magnum step boxes, Magnum tool box
Beacon lights, LED lights, Work lights, Air D sign
Dual Webasto heaters
Magnum Easy latch Moose bumper with driving lights
Bridgestone 385/65R22.5 steers 80%
New 11:00 X 24.5 rear tires
Alberta safety
$59,900.00 Financing OAC. Ph. Randy at (780)361-6609 or (780)352-5654 Wetaskiwin AB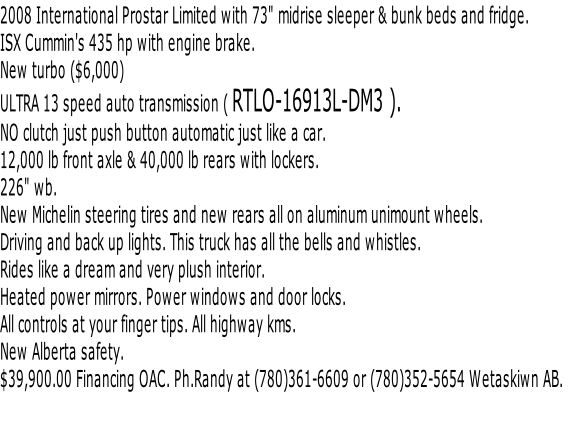 2000 Freightliner FLD 120 with 15,500 litre tank
Caterpillar 3406, 475 hp,
Eaton Fuller 18 spd,
A/R susp,
14,600 lb front axle, **WILL SELL WITHOUT TANK**
46000 lb rears,
260 in. WB,
NoCorode Tanks 2 comp't tank,
Derakane,
TC312RP code,
3 in. pump,
plumbed for pup,
Catwalk,
PAS
385 front tires on aluminum wheels
11:00 X 24.5 tires on aluminum wheels
Current Alberta safety
$44,900.00 obo Financing OAC
Ph. Randy at (780)361-6609 or (780)352-5654 Wetaskiwin AB

2000 Jeep TJ Sport. I bought it 10 years ago with 97,000 kms and it has 212,214 kms now. 4 Litre straight 6 cylinder engine with auto transmission. Usually just driven in the summer months. I have run 0/30 synthetic oil from when I bought it. Starts in winter no matter how cold it gets. I have all the bills on it since I bought it. I put about $12,000 in extra's on it including air conditioning, cruise control, 9,500 lb Warn winch, mag wheels with 33" BF Goodrich Mud Terrains, 4" lift kit, chrome bumpers and grille, stainless Nerf bars and much more. I also have a new set of winter studded tires on the stock mags and a spare windshield that goes with it. It has been well taken care of and well maintained. Brakes, tranny, four wheel drive it all works great. The striping can be easily removed at time of sale. Some of the paint is starting to peel and there is one little rust spot on the top of the passenger side front fender. Other than that the body is very sound. The interior is in good shape with no rips or tears in the seats etc. $11,000 with the winter tires and rims $10,000 without. Up grading to a 2015 Jeep Hard Rock Edition. Ph. Randy at (780)361-6609 or (780)352-5654 Wetaskiwin AB.


2007 Freightliner M2 Business Class single axle, 212,000 kms, Caterpillar C7, 300 hp,
Allison automatic,
A/R cab, A/C, Spring susp,
12000 lb frt, 23000 lb rears,
150 in. WB,
Good 11:00 X 22.5 tires
Electric brake control, Dual air horns
Dual aluminum fuel tanks, Fifth wheel
Clean little truck
Current Alberta safety
$34,900.00 Financing OAC. Ph. Randy at (780)361-6609 or (780)352-5654 Wetaskiwin AB
2007 Freightliner CL120 Columbia tandem tank truck, 14,840 Litre Acid tank,
1997 Wabash 2 comp't tank tested Aug 2016,
Derakane 441,
312 RP code, Bowie 3 in. pump, Plumbed for pup,
Non corrosive tank good for liquid fertilizer etc,
Will sell tank separately,
Will sell with or without tank, **WILL SELL WITHOUT TANK**
166" back of cab to centre of axles,
Perfect for a 21' grain/silage box or what have you,
Pre emission Detroit Series 60, 616 hp, 356,342 kms,
Engine brake, Air shut down,
Eaton Fuller RTLO169189, A/R cab,
Airliner A/R susp, 16000 lb frt,
385/65R22.5 tires on Alcoa aluminum wheels,
RT46164P rears, Double diff lock,
Brand new 11:00 X 24.5 tires on Alcoa aluminum wheels,
280 in. WB, Double frame,
36 in. integral sleeper with side windows,
Webasto engine heater,
Moose bumper, Beacons, Twin stacks, PTO, New Alberta safety,
$59,900.00 Financing OAC. Ph. Randy at (780)361-6609 or (780)352-5654 Wetaskiwin AB
Great for spray water or liquid fertilizer,
12,530 liter tank,
Non corrosive tank good for liquid fertilizer etc,
Tank and shower unit separately,
1997 Wabash 2 comp't fiberglass tank,
Inspected Aug/2016
Derakane 441,
TC312 code,
T&E 3 in. hyd pump,
Finch 5332E level monitor
$12,000.00 obo Financing OAC. Ph. Randy at (780)361-6609 or (780)352-5654 Wetaskiwin AB


2007 Western Star 4900SA tandem axle winch tractor,
34" sleeper with back window and cover,
Dual Webasto engine and bunk heaters,
Caterpillar C15, 550 hp, eng brake,
Twin cylinder air compressor,
Eaton Fuller RTLO18918B,
20,000 lb front axle,
Dual steering boxes,
Good Michelin 385/65R22.5 steering tires on Alcoa alum wheels,
RT46164P rears with double dif locks,
Good 11:00 X 24.5 rear tires on Alcoa alum wheels,
244 in. WB,
Bandit Bar moose bumper,
Twin 6" stacks,
Dual S/S air cleaners,
Stainless steel bug deflector and sun visor,
Air ride cab,
A/C, Power mirrors mounted to cab not doors,
Power windows,
Double frame,
Airliner air ride suspension,
Tulsa Rufneck 30 ton hydraulic winch
Lowboy ramps,
Live roll,
Aluminum tool boxes,
Air D sign,
Sliding chain hangers,
Wide load mirrors,
LED Beacon lights,
LED speaker headlights,
LED work lights,
LED light package,
Comes with rigging,
Alberta safety good until Nov/2017
$69,900.00 Financing OAC. Ph. Randy at (780)361-6609 or (780)352-5654 Wetaskiwin AB
Stock # 235 Ser # 5KJJALAV27PX36679
**MORE PICTURES ON THE WEB SITE AT www.knullent